Image Credit: Charlie Schuck
2008 Spotlight Award: Paul Rucker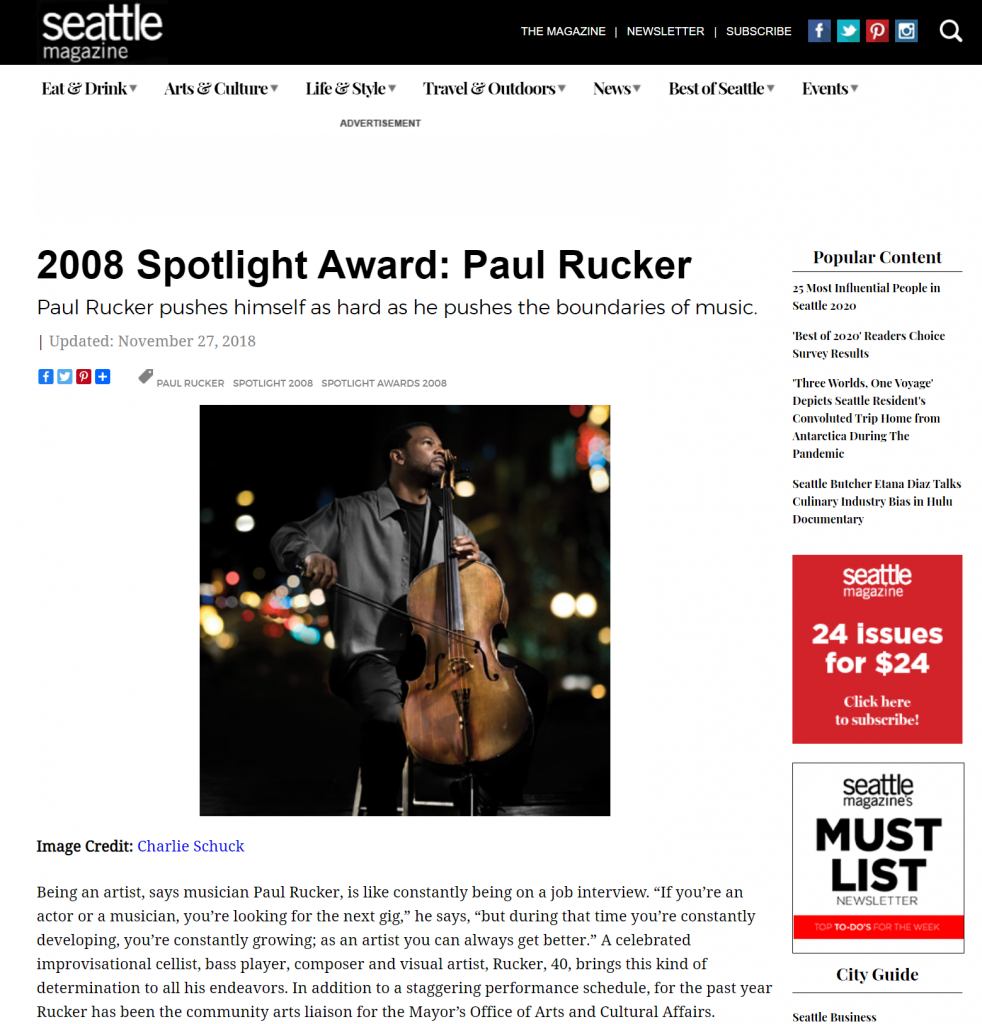 Paul Rucker pushes himself as hard as he pushes the boundaries of music.
More here: https://www.seattlemag.com/article/2008-spotlight-award-paul-rucker
Being an artist, says musician Paul Rucker, is like constantly being on a job interview. "If you're an actor or a musician, you're looking for the next gig," he says, "but during that time you're constantly developing, you're constantly growing; as an artist you can always get better." A celebrated improvisational cellist, bass player, composer and visual artist, Rucker, 40, brings this kind of determination to all his endeavors. In addition to a staggering performance schedule, for the past year Rucker has been the community arts liaison for the Mayor's Office of Arts and Cultural Affairs.
A soft-spoken, understated man, Rucker has earned acclaim for what he doesn't do—he doesn't play music the way everyone else plays it. "The way I approach music or art or anything is I try to go beyond the limitations of expectations," he says. "I did a concert last spring where I performed for an hour and a half and I didn't plan anything. I played the whole concert from beginning to end without ever thinking about what I was going to play, and I'll do it again." Rucker's cello playing involves using "extended technique," which means creating sound using unconventional methods—scraping the bow across the wood of his instrument, or playing in multiple time signatures. His cello pieces can move from discordant, random scratchings to the most mellifluous, heartbreaking tones imaginable, and back again.
Rucker gets his drive (and probably his musical talent) from his mother, who taught herself to play the organ via a mail-order music course. He was raised in South Carolina, where he started playing bass in 4th grade and soon found he had a knack for the instrument. He attended the University of South Carolina on a music scholarship, and played in the South Carolina Philharmonic Orchestra during his freshman year, in addition to jazz, bluegrass and reggae bands. Though he didn't graduate, the college experience taught Rucker a lot about music and the importance of trying to find one's "authentic self."
His authentic self seems to crave a surfeit of work, as he regularly spends more than 60 hours a week on various projects. In addition to working at the mayor's office, he'll perform 30 solo cello concerts in September and October and will cut a solo CD (due out in October). He teaches recording techniques to youth at Arts Corps, makes interactive visual art pieces and leads the Paul Rucker LARGE Ensemble, a group of 20 musicians.
As Rucker's made a name for himself, recognition has followed. In 2006, he studied in Italy on a Rockefeller Foundation grant, and in 2007 he received an Artist Trust Fellowship in Music. "People hear about all the grants that I get, but they don't see my stack of rejection letters, which is a really big stack," he says modestly. "I look at rejection letters not as a sign of failure but as an indicator that I'm trying, that I'm working, moving forward."